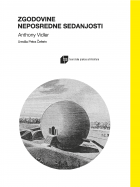 Title:
Author:
Other authors:
Year:
Compilation:
Keywords:
Language(s):
Description
The book ('Histories of the Immediate Present: Inventing Architectural Modernism') examines the work of four historians of architectural modernism and the ways in which their histories were constructed as more or less overt programs for the theory and practice of design in a contemporary context. Author Anthony Vidler looks at the historical approaches of Emil Kaufmann, Colin Rowe, Manfredo Tafuri and Reyner Banham, and the specific versions of modernism advanced by their respective historical narratives. The book demonstrates the inevitable collusion between history and design that pervades all modern architectural discourse, and that has given rise to some of the most interesting architectural experiments of the postwar period.
Table of content
UVOD
1          NEOKLASICISTIČNI MODERNIZEM: EMIL KAUFMANN
Avtonomija
Neoklasicizem in avtonomija
Od Kanta do Le Corbusierja
Strukturna analiza
Od Kaufmanna do Johnsona in Rossija
Oživljena avtonomija
2          MANIERISTIČNI MODERNIZEM: COLIN ROWE
Angleški Palladio
Moderno palladijanstvo
Diagramiranje Palladia
Matematika
Izumljanje modernizma
Manierizem
Konec modernizma
Modernistični manierizem: Stirling
3          FUTURISTIČNI  MODERNIZEM:  REYNER BANHAM
Moderno pitoreskno
Historicizem proti funkcionalizmu
Funkcionalistični modernizem
Vrnitev futurizma
Teorije in projektiranje
Program, znanost in zgodovina
»Une architecture autre«
Onkraj arhitekture: Banham v Los Angelesu
4          RENESANČNI MODERNIZEM: MANFREDO TAFURI
Arhitekt in zgodovinar
Revizija zgodovine
Zaton in vzpon zgodovine
Ideologija in utopija
Tesnoba
Odčaranja
5          POSTMODERNA ALI POSTHISTOIRE?
Petra Čeferin, Arhitekturna zgodovina: vez zgodovine in sedanjosti Spremna študija
Seznam fotograij in risb
Imensko kazalo
 
More ...
Iztok Ilich: ZGODOVINE NEPOSREDNE SEDANJOSTI; Bukla 28.11.2016
ZGODOVINE NEPOSREDNE SEDANJOSTI; Reporter 12.9.2016
Publishing House
Založba ZRC
Co-publisher
Fakulteta za arhitekturo
ISBN
978-961-254-895-7
Specifications
paperback • 14 × 20 cm • 264 pages
Price
19,00 EUR (Regular)
15,00 EUR (Club)