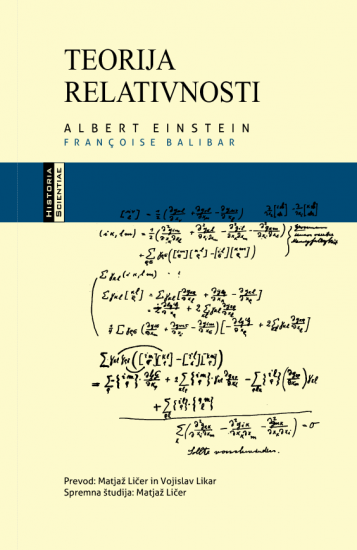 Teorija relativnosti [mehka vezava, drugi natis].
Authors: Françoise Balibar, Albert Einstein
Year: 2016

Einstein has written his work "Special and General Theory of Relativity" soon after his final formulation of general relativity in 1915. He was driven by his desire to concisely present the theory of relativity to all those who were interested in its scientific and philosophical implications but lacked the mathematical foundations of theoretical physics. This publication offers a unique and direct insight into the conceptual foundations of the theory of relativity as presented by its author, but its value is further enhanced by the fact that it presents this groundbreaking theory in a broader historical context arising from the seminal works of Galileo and Newton. Einstein's book is accompanied by the text "Einstein's reading of Galileo and Newton" written by the french author Françoise Balibar and by an Afterword written by Matjaž Ličer. Both mentioned texts offer a historical introduction into the epistemological development of the notion of relativity in the history of physics and science in general.
---
Authors

Other authors

translation (Einstein) and afterword




translation (Balibar)

Publishing House:

Založba ZRC

Publisher

ISBN

978-961-254-746-2

Year

2016

Series

Language(s)

Specifications

paperback 15 × 23 cm 228 pages

E-publications

Permalink