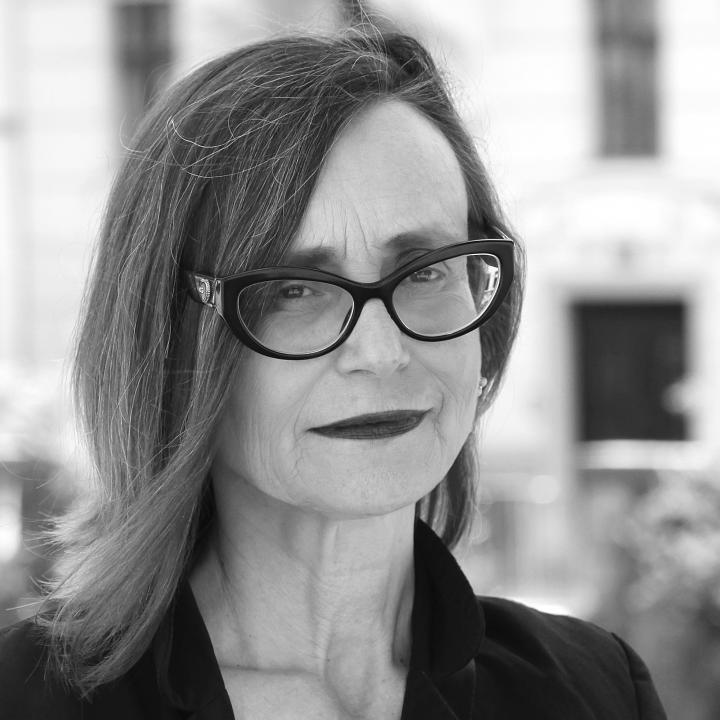 Marina Gržinić Mauhler, PhD
Year of Birth: 1958
Education: Doctorate
Research Title: Principal Research Associate
University Title: Professor
+386 1 470 64 80
marina.grzinic@zrc-sazu.si
Teaching Engagements
Postgraduate program Intercultural Studies - Comparative Studies of Ideas and Cultures, University of Nova Gorica and Scientific Research Centre of the Slovenian Academy of Sciences and Arts, Ljubljana.
University Professor for Conceptual Art at the Academy of Fine Arts, Vienna.
CCC, Haute école d'art et de design Genève, Geneva, Switzerland.
Hoger Instituut voor Schone Kunsten, Gent, Belgium.
Duke University, Durham, USA.
Membership
ISEA-Board
Art Margins Editorial Board
Fellowships and Awards
USIA, USA, New York, Los Angeles, San Francisco (1988)
JSPS, Tokyo, postdoctoral at Institute for Imagining Technology, Japan (1997-98)
Apex ART curatorial, New York, USA (2001)
Duke University, Durham, USA
Study Abroad
Institute for Imagining Technology, Tokyo, Japan
Lectures (Selection 2018-2021)
How to blow the world of racial global necrocapitalism and provoke rebellion, power, thoughts: prispevek na konferenci The White West III: Automating apartheid, Kunsthalle Wien (Avstrija), 13. februar 2020.
Contemporary philosophy between necropolitics and thanatopolitics: prispevek na mednarodnem kolokviju Re-activating critical thinking in contemporary philosophy and theory, org. v okviru predmeta Sodobne teorije umetnosti in kulture ter estetika novih tehnologij na Podiplomski šoli ZRC SAZU, 15. januar 2021.
Performativity and theory: prispevek na Live Theory Workshop (LTW), School of Arts and Culture, Malmö University, Malmö (Švedska), 24.–26. oktober 2018.
From biopolitics to necropolitics: predavanje na otvoritvi Moderna Exhibition 2018 With the Future Behind Us, Moderna Museet, Stockholm (Švedska), 20. oktober 2018.
Images of violence, or the violence of neoliberal necrocapitalism: prispevek na Symopsion on Photography, Camera Austria, Gradec (Avstrija), 5. oktober 2018.
Decolonial, post-colonial, post-socialism: predavanje na Balkan Society for Theory and Practice Workshop v okviru panela What does it mean to speak of decoloniality in Eastern Europe?, Prizren (Kosovo), 20. julij 2018.
Društvene i umjetničke prakse suživota i nova kritička misao: predavanje v okviru razstave Unprofessional/Besposlen, org. Institut za savremenu umjetnost, Galerija Art, Podgorica (Črna gora), 7. junij 2018.
Reciting: residues, ruins, remainders: plenarno predavanje na konferenci In the Names of ... Re/In/Citing Politics Beyond Capital and Colony, Moravian Gallery, Brno (Češka republika), 26. maj 2018.
GRŽINIĆ, Marina, CROWLEY, David. Überschreitung und Übergang in den Künsten?: diskusijski prispevek na simpoziju Underground + Improvisation, Akademie der Künste, Berlin (Nemčija), 21. april 2018.
Decolonial and performative: prispevek na srečanju z nasl. To be archived v okviru projekta Living archives research project, Malmö Konstmuseum, Malmö (Švedska), 12. april 2018.
Memòria i història i l'acte de recordar: prispevek na seminarju La condició de contorn. Sobre l'arxiu i els seus límits, MACBA - Museu d'Art Contemporani de Barcelona (Španija), 16. februar 2018.
GRŽINIĆ, Marina, PRISTOVŠEK, Jovita. Race and its far-reaching contemporary ontological and epistemological implications. In: ROSEN, Matt (ed.). Diseases of the head: essays on the horrors of speculative philosophy. Earth, Milky Way: Punctum books, cop. 2020. Str. 197-235. ISBN 978-1-953035-10-3, ISBN 978-1-953035-11-0.
A Marxist-feminist perspective: from former Yugoslavia to turbo-fascism to neoliberal postmodern fascist Europe. In: FAKIER, Khayaat (ed.), MULINARI, Diana (ed.), RÄTHZEL, Nora (ed.). Marxist-feminist theories and struggles today: essential writings on intersectionality, labour and ecofeminism. London: Zed Books Ltd, 2020. Str. 231-248. ISBN 978-1-78699-616-9, ISBN 978-1-78699-615-2, ISBN 978-1-78699-617-6, ISBN 978-1-78699-618-3, ISBN 978-1-78699-619-0.
What is the aesthetics of necropolitics?. In: LUSHETICH, Natasha (ed.). The aesthetics of necropolitics. London; New York: Rowman & Littlefield International, cop. 2018. Str. 17-36. Experiments/On the political. ISBN 978-1-78660-685-3, ISBN 1-78660-685-2.
Queer, politics, racism and resistance. In: BLAGOJEVIĆ, Jelisaveta (ed.), STOŠIĆ, Mirjana (ed.), FRIDMAN, Orli (ed.). #political. Belgrade: Faculty of Media and Communications, 2017. Str. 299-318. Collectanea. ISBN 978-86-87107-77-9.
How institutions think?: institutions do not think, they simply act!. In: O'NEILL, Paul (ed.), STEEDS, Lucy (ed.), WILSON, Mick (ed.). How institutions think: between contemporary art and curatorial discourse. Feldmeilen: LUMA Foundation; Annandale-on-Hudson: Center for Curatorial Studies, Bard College; Cambridge (Mass.); London: The MIT Press, 2017. Str. 145-155. ISBN 978-0-262-53432-1.
Racialized bodies and the digital (financial) mode of production. In: GRŽINIĆ, Marina (ed.), et al. Regimes of invisibility in contemporary art, theory and culture: image, racialization, history. Cham: Palgrave Macmillan, cop. 2017. Str. 13-28. ISBN 978-3-319-55172-2, ISBN 978-3-319-55173-9. DOI: 10.1007/978-3-319-55173-9_2.
What kind of memory does Europe construct? What kind of memory does Europe impose? = Millist mälu Euroopa konstrueerib? Millist mälu Euroopa peale surub?. In: TALI, Margaret (ed.), RANDER, Tanel (ed.). Archives and disobedience: changing tactics of visual culture in Eastern Europe = Arhiivid ja allumatus : visuaalkultuuri muutuvad taktikad Ida-Euroopas. Tallinn: Estonian Academy of Arts Press, 2016. Str. 92-108, 88-103, ilustr. ISBN 978-9949-467-87-7.
"Afterwards": struggling with bodies in the dump of history. In: JIMÉNEZ DEL VAL, Nasheli (ed.). Body between materiality and power: essays in visual studies. Newcastle upon Tyne: Cambridge Scholars Publishing, 2016. Str. 163-182. ISBN 978-1-4438-9533-0.
Political feminist positioning in neoliberal global capitalism. In: BEHAR, Katherine (ed.). Object-oriented feminism. Minneapolis; London: University of Minnesota Press, cop. 2016. Str. 201-223. ISBN 978-1-5179-0109-7.