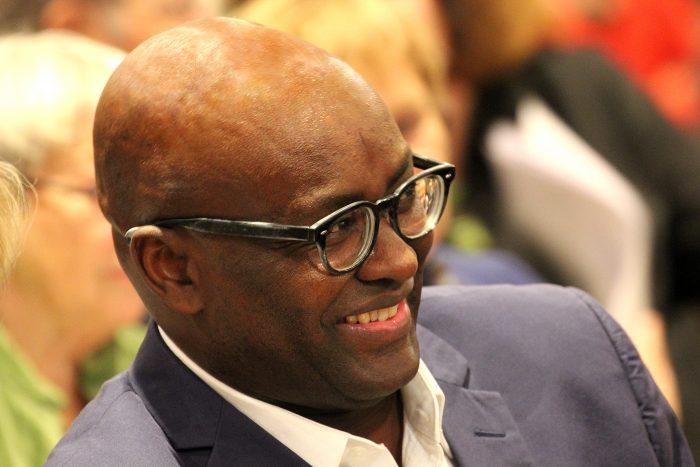 Kritika črnskega uma končno tudi v slovenskem jeziku
Published on: 6. June 2019
Junija smo v Atriju ZRC predstavili prevod  knjige Kritika črnskega uma. Avtor Achille Mbembe je eden  »najprodornejših teoretikov globalnega kapitalističnega neoliberalnega sveta«, kot sta ga označila dr. Marina Gržinić in dr. Lev Kreft, pisca spremne študije v slovenskem prevodu Mbembejeve knjige Kritika črnskega uma, ki je pravkar izšla pri Založbi ZRC.
Pri predstavitvi in pogovoru so sodelovali: Marina Gržinić (Filozofski inštitut ZRC SAZU), Lev Kreft (Filozofska fakulteta Univerze v Ljubljani), Suzana Koncut in Mathias Rambaud (Francoski inštitut).
Ena temeljnih Mbembejevih tez v knjigi Kritika črnskega uma je, da »Evropa ni več težišče sveta«, kar po njegovem prinaša »nove možnosti za kritično misel«. Kritika črnskega uma je v francoskem izvirniku izšla leta 2013, in sicer z naslovom Critique de la raison nègre pri založbi La Découverte v Parizu. Iz francoščine jo je prevedla Suzana Koncut. Prevod in predstavitev knjige je podprl Francoski inštitut v Sloveniji; posebna zahvala gre Mathiasu Rambaudu, kulturnem atašeju.
********************************************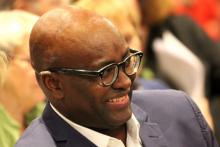 Achille Mbembe
Achille Mbembe je svetovni znani filozof, rojen leta 1957 v Kamerunu. Tam preživi dobršen del otroštva in se v glavnem mestu Yaoundéju tudi šola. V poznih dvajsetih se odpravi na potovanje po Tanzaniji, kjer spozna misel velikega Juliusa Nyerereja. V tanzanijskem glavnem mestu Dar es Salaam se je v 70. letih kar kresalo od različnih pristopov in stališč o osvoboditvi afriških držav izpod kolonialnega jarma, tamkajšnja univerza pa je bila kovnica afriških marksistov.
Na pragu 80. let se Mbembe poda na študij zgodovine v Pariz, vzporedno študira politične vede. Na obeh smereh tudi diplomira. Kmalu zasede mesto profesorja na univerzi Columbia v ZDA, na različnih ameriških univerzah in pod okriljem različnih štipendij nato preživi nadaljnjih nekaj let, dokler leta 1996 ne postane izvršni sekretar Sveta za razvoj raziskav na področju družbenih ved v Afriki (CODESRIA), mednarodne organizacije s sedežem v Dakarju. To delo opravlja štiri leta, potem se ustali v Republiki Južni Afriki, kjer živi in dela še danes. Poučuje na Inštitutu za družbene in ekonomske raziskave Wits (Institute for Social and Economic Research (WISER)) na Univerzi Witwatersrand v Johannesburgu.
********************************************
Novinarska konferenca, 3. junij 2019, z leve proti desni: Marina Gržinić, Mathias Rambaud, Lev Kreft in Suzana Koncut.